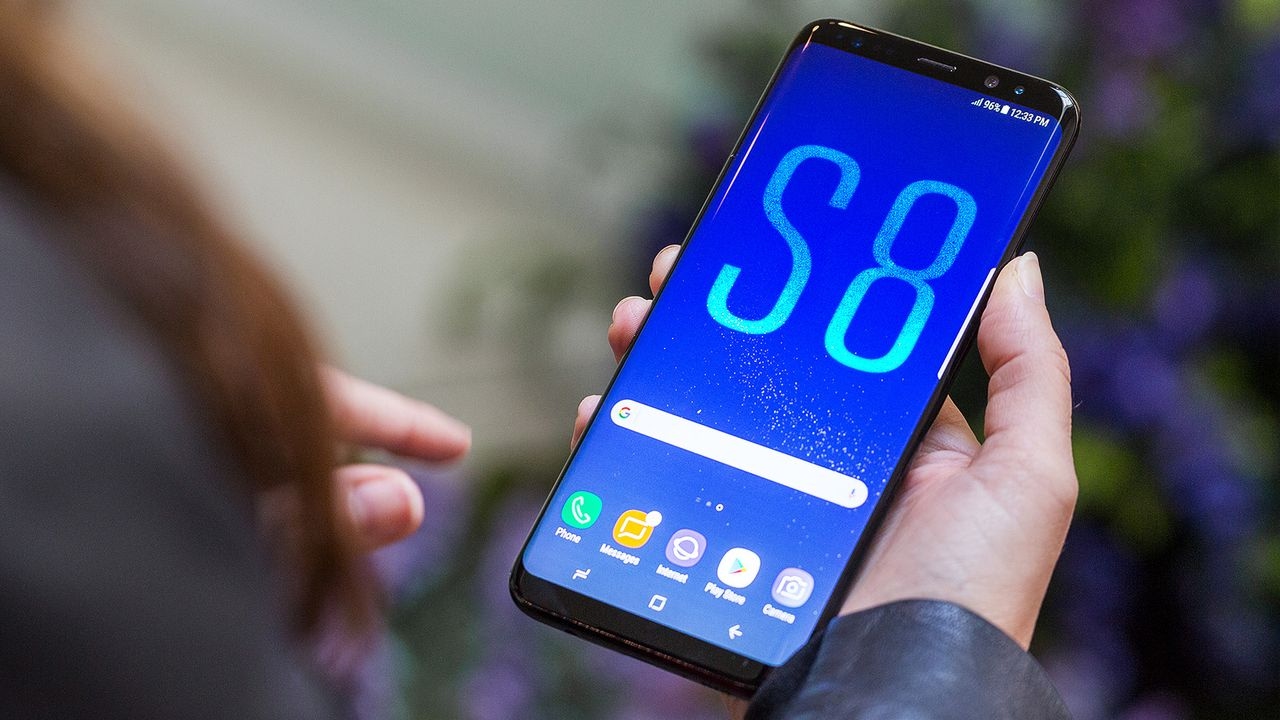 This is a big screen on a not very big phone, and this is an even bigger screen on that much bigger phone – It's Galaxy S8.
So the Samsung Galaxy S8 comes in two sizes.
5.8 inches and the S8plus which is a 6.2 inch screen.
What's new here is that they're super tall because they got rid of the bezels on the top and the bottom of the phone and now the sides are still curved like they are on like the galaxy S7 edge
That's just the default way that these phones come now.
Samsung's not calling it an infinity display, and I don't know, the curve is fine, I'm not picking up a lot of extra little tabs.
It looks really sharp and it's got you know HDR color if you care about that sort of thing.
What's interesting is they both have the same resolution, which is 2960 by 1440, but you know Samsung makes great screens and these look great.
Really the thing that hits you hardest when you look at the hardware on this phone is that the whole thing just looks and feels really great.
The SIMs are even harder to find than they are on the S7 edge.
The glass just sort of melts into the sides and they don't have a camera bump on the back.
This honestly, it feels like some of the best phone Hardware I've ever used.
It's way better than say the iPhone 7.
So getting rid of those bezels on the top and the bottom means they had to make some changes.
So you'll notice there's no home button in the front, it's not on the back either.
What it has, is like a virtual home button.
Samsung has added some hap tic feedback.
It's kind of like "force touch" on the iPhone, but it's only right at the very bottom, and so even if you don't see a home button, you can still press hard on that area of the screen and that is going to take you home.
Samsung Galaxy S8 Security
If you want to unlock the phone you actually have four different ways you can do it now.
You can do your password or your pattern as usual, but there's a fingerprint sensor on the back.
It is located right next to the camera which is a little bit hard to reach.
This is not great if you're left-handed, and it also means you're probably going to end up putting your finger on the camera sometimes which could cause some smudges so make sure you wipe it off or you take a picture.
There's also iris scanning which we saw on the note 7 RI P which is very secure and then there's now face scanning.
I don't think it's quite as secure as the iris scanning or the fingerprint sensor, but my God! is it past, like, how fast it unlocks, you blink and you miss it you don't have to wait for it to scan your face at all..
It just works!
They're a little bit narrower than the galaxy S7 and the S7 edge and they're just a little bit thicker but not so much that you really notice it.
What it means is that they can fit in a 3000 milliamp battery on the S8 at a 3501 on Sa plus.
It's not exactly pushing the limit in terms of battery capacity, but I have to imagine that Samsung isn't really interested in pushing the limited battery capacity right now after what happened with the note 7.
They also do all the stuff that you normally expect from a Samsung phone.
It's got ip60 waterproofing, there's 4 gigs of RAM, there's 64 gigs of on-board storage and yes, there's expandable storage, and yes, there is a standard 3.5 millimeter headphone jack.
One thing that Samsung didn't change is the camera on the back, it's still 12 megapixel sensor.
Although Samsung says it has improved the image processing software.
We really like these cameras on the S7, I imagine they're going to be just as good, probably a little bit better on the S8.
One thing that is new is the front-facing camera, it's now 8 megapixels and it has auto focus, which is pretty cool
When you're in the camera, you're going to start to see one of the big big things that's new in the S8.
It's called Bixby and it's Samsung's intelligent agent so let me just show you how it works in the camera stuff.
When you've got the camera app open you can hit this button, and then it'll go into Bixby mode and it's going to auto detect whatever it sees on the screen.
So if I point it at some flowers, it's going to recognize that they're flowers and show me pictures of more flowers or maybe let me go buy some flowers.
Or here, I am pointing it at a watch and although it wasn't able to figure out exactly what model of watch it was.
It actually figured out it was a watch and showed a bunch of pictures of other watches or let me go to Amazon to buy a watch that looks like it.
Which is really impressive, but beyond like a are stuff in the camera what Bixby is really, for is to sort of make it easier to use Samsung's own software.
Their goal is to have anything that you would do by touching the phone, you can do it by speaking to the phone and so, with any compatible app it's of course starting on Samsung apps and the way that you triggered is by holding down a side button which is actually a really bold move they've got a whole extra button here and if Bixby turns out to not be that great
They've basically wasted part of the hardware of the phone on this thing so we're gonna have to see but unfortunately we weren't able to try Bixby yet it is still coming out when the phone comes out.
They didn't have it at the demo station so pre-orders for the S8 and the  S8+ began on march 30th and it went on sale on April 21st
In the US, it's available in three colors black, gray and silver and I can't tell you the actual price as it varies.
So you might have to go see what Verizon or AT&T or t-mobile or Sprint erna charger.
Have you gotten your Samsung Galaxy S8? Please share your experiences with us..